Meet the Inspiring 2023 JSKY Scholarship Recipients
The JSKY Scholarship supports outstanding high school students from underserved backgrounds who demonstrate exceptional leadership, academic excellence, and community service. We are proud to announce the 2023 scholarship recipients who exemplify the values of compassion, justice, and social responsibility that are central to the JSKY Scholarship mission.
This year's recipients have already made tremendous impacts on their schools and communities while overcoming significant obstacles. Whether launching clubs to increase college access, advocating for women's rights, or working to make healthcare more inclusive, these students have a passion for creating positive change. They are the future leaders, activists, educators, lawyers, doctors, and innovators who will continue to uplift their communities for years to come.
We are honored to be able to support these remarkable students as they embark on the next chapter of their academic journeys. Please join us in celebrating their achievements by reading their inspiring biographies below. Their drive, resilience, and vision give us tremendous hope for the future.
---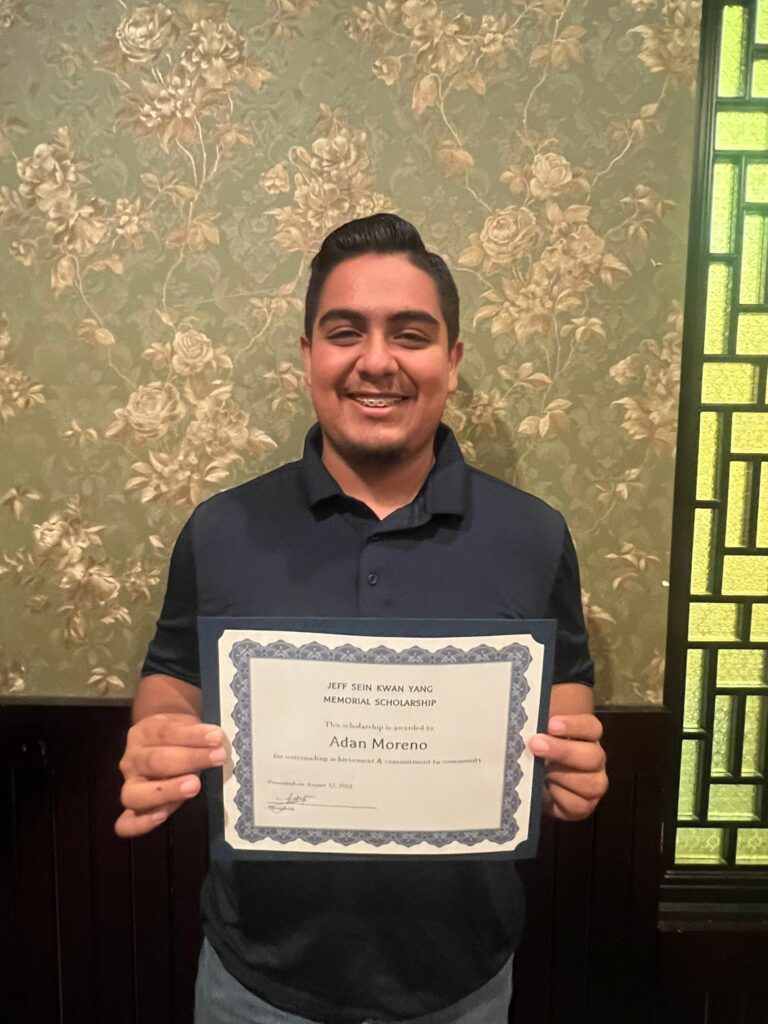 Adan Moreno
Nogales High School
Pitzer College
Adan Moreno is a future community leader who will build bridges and inspire the next generation. During his time at Nogales High School, he saw firsthand the barriers and inequities that Latinx students face in under-resourced schools, and he stood up and did something about it. Adan demonstrated his leadership skills by co-founding the College Connect Club, which helped generate interest in college through events and activities and provided resources in the college application process.
He was President of the AVID Program for College and career readiness and served as Ambassador for the CARPE College Access Program. Adan went on to represent his community at the Chicano Latino Youth Leadership Program's Statewide Leadership Conference this past summer. Through it all, Adan kept a strong GPA, had perfect attendance, and served in numerous other leadership positions while working and volunteering. Adan plans to graduate from Pitzer College with a major in Sociology and pursue a career in education. We are overjoyed to help him achieve his goals and cannot wait to see all he will accomplish.
---
Amy Dang
West Covina High School
University of California, Santa Barbara
Amy Dang has a clear vision of how she will fight for the underdog as an attorney in the future. Throughout her high school years, she has devoted herself to volunteering at a local food pantry for unhoused and low-income individuals. The empathy, insight, and relationships she has cultivated during this time have been a significant source of motivation for her. Amy is also an advocate for ending period stigma against women and organized period product donation drives for local women's shelters.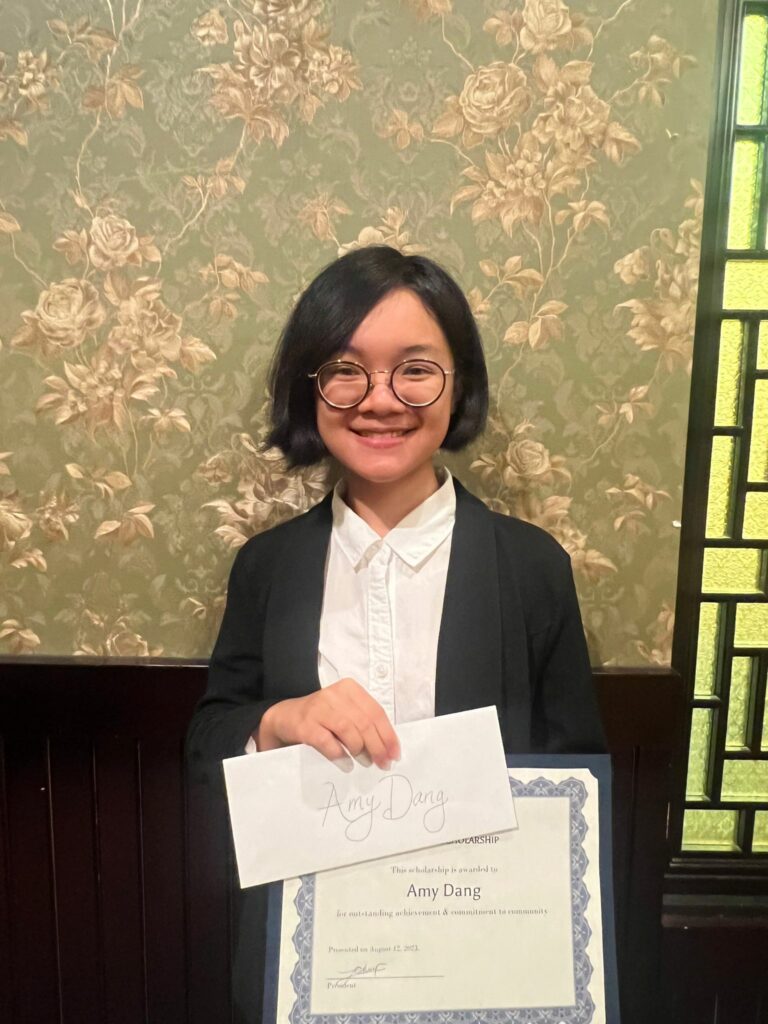 She is also passionate about environmental protection. As the first in her family to go to college, Amy plans to study Political Science or Environmental Science and aspires to attend Berkeley School of Law one day. She hopes to fight for rights and serve as an inspiration and leader for others like her. With her straight-A grades and many other leadership positions, Amy is well on her way to her goals.
---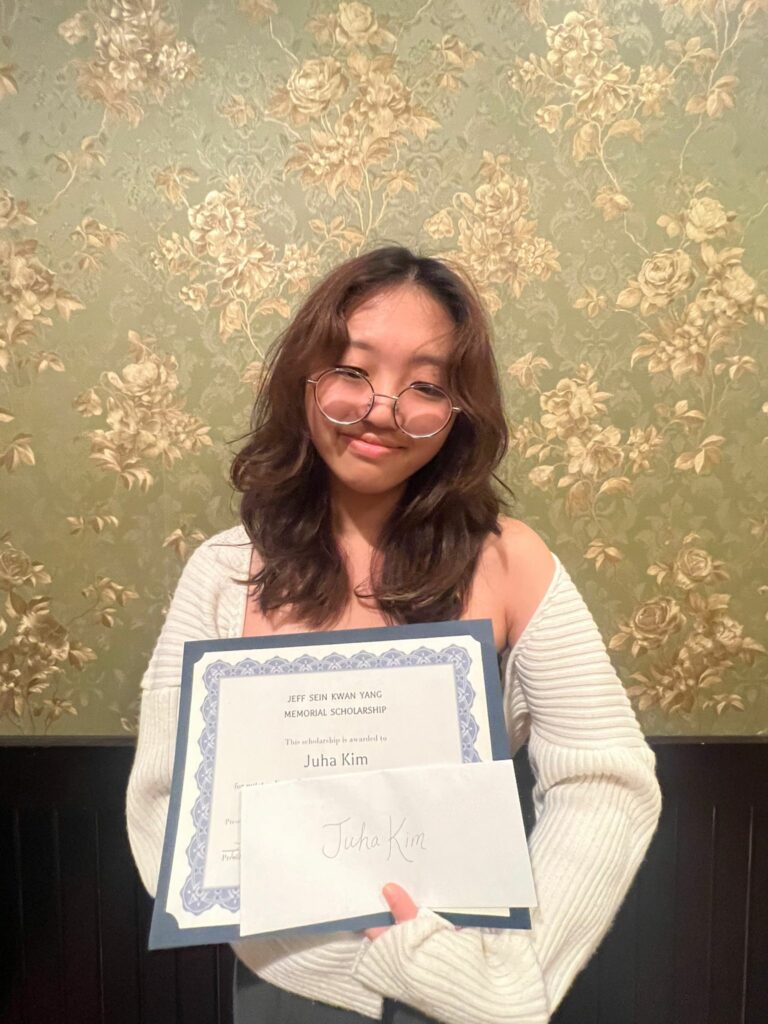 Juha Kim
Pasadena High School
Azusa Pacific University
Juha Kim is a compassionate caretaker who will help make our healthcare system more inclusive. Growing up with a uniquely Korean name, Juha has felt the sting of being excluded and hopes to one day become a nurse providing multicultural care. Juha has conducted medical research with the Huntington Medical Research Institute, and volunteers for the USC Arcadia Hospital.
In keeping with her desire to connect communities, Juha also volunteers with her church, teaching English and Korean. In her spare time, she is a First Violinist with the Pasadena High School Advanced Orchestra, and serves in many leadership positions in school clubs including the school newspaper, the Creative Writing Club, and the Seoul Club, all while keeping stellar grades. We are proud to recognize Juha's achievements and know this is just the beginning.
---
The recipients of the 2023 JSKY Scholarship exemplify the spirit of leadership and service that we look for in applicants each year. We hope their stories inspire other driven, community-focused students to apply for future scholarships. If you are a high school student who is passionate about creating positive change in underserved communities, we encourage you to consider applying. Like our 2023 winners, your vision, perseverance, and academic excellence could earn you this life-changing scholarship to help you achieve your dreams. Any student can make an impact—the key is finding your passion and putting it into action. Be the leader you want to see in the world. The JSKY Scholarship wants to support you on your journey.
If you would like to support students like these through a donation, please visit our website.